Bolting or escaping, is a common problem that special needs parents tackle. Follow along to see how we minimize this. Here is our family's method for securing doors and windows to prevent bolting.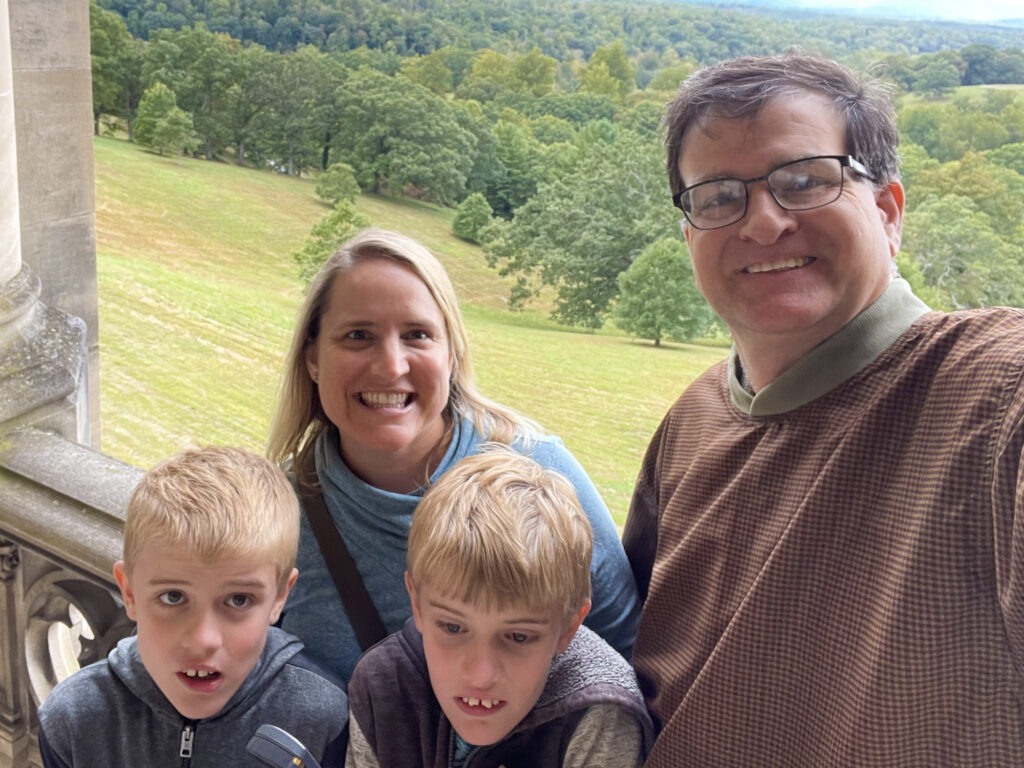 Little Escape Artists: The Bolters
Special needs kids seem to have an incredible ability to escape. Like little magicians, they study the art of escaping, lurking in the shadows watching while adults work levers, keys, chains slides etc. The little gears in their minds start turning. They become experts in their craft. Securing doors and windows to prevent bolting is high on our priority list. How about you? If you haven't met our smart kids yet, you can read about us here https://faithhealthautism.com/about-me/.
Dangers of Bolting
The obvious immediate dangers of being an escape artist may depend on the location of child. If you live in an urban area, running across or wandering down a street in traffic is a common problem. But many other dangers are nearby no matter where a child resides.
Many areas around us have creeks that take spring fed and storm run off and flow toward our water reservior. This can be a huge drowning hazard when we have periods of heavy rains and the water rises quickly. I once had an autism specialist tell me at our appointment that drowning is the major concern with wandering autistic kids.
Also, in the days of this internet, childhood predators are a big fear. A wondering child can prompt neighbors to post on the neighborhood website. The neighbors don't realize that the neighborhood websites are public sites. A huge security issue is then created as a wondering child could be scooped up by someone who would mean to cause them harm.
Beginning steps to Securing Doors and Windows
Before I get in to this, I will offer this free advice: Nothing you do to secure your home will work forever. As an autistic caregiver, you have been given a gift of one of the most intelligent beings on the planet. These kids are SMART. Smarter than smart. And they will eventually figure out how to get through your system. The trick is to be willing to sharpen you mind so that you stay one step ahead of them.
We do not currently have a security system on our home. Mostly for budget reasons as they are fairly expensive to maintain and pay the monthly fees.
Also we have a Houdini in our house that can take apart anything that is not in a locked secure box. This gets really expensive, really fast. So, think wiring, alarm box with lots of buttons. very attractive beeping noises, etc. One day I will actually figure this out, or even better we will grow and move on to a different autism stage. But for now, the actual key locks, and deadbolts that aren't easily disassembled are the way to go ( at least for us).
Next, let's discuss our family strategy of securing doors and windows to prevent bolting.
Levels of Locks for Bolting Prevention
First level of lock is the actual cute little sticky alarm that you currently see at the top. We got these off of Amazon. I will try to link them below. These work fairly well at the beginning, before a child is tall enough to either reach the alarm or slide the chair over to climb. There's nothing fancy here, it's just makes a really loud noise when the door or window is opened. Totally worth the price if you are at the beginning stages.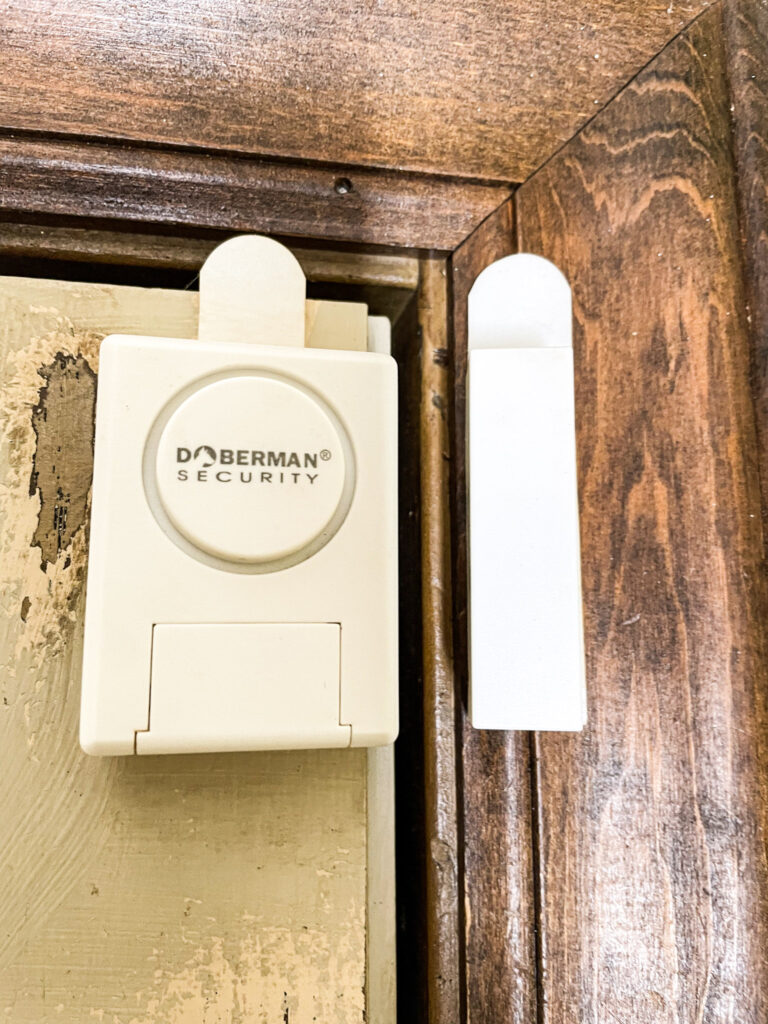 Next we have the slide lock. Also a chain lock would fit here. Again, really useful in the stage slightly after the cute little alarm age. It's not attached with an adhesive, and if it's tight enough will take a little bit of elbow grease to maneuver. This did work for us for a time until the twins were old enough to both slide a chair and reach up and strong enough to slide the lock.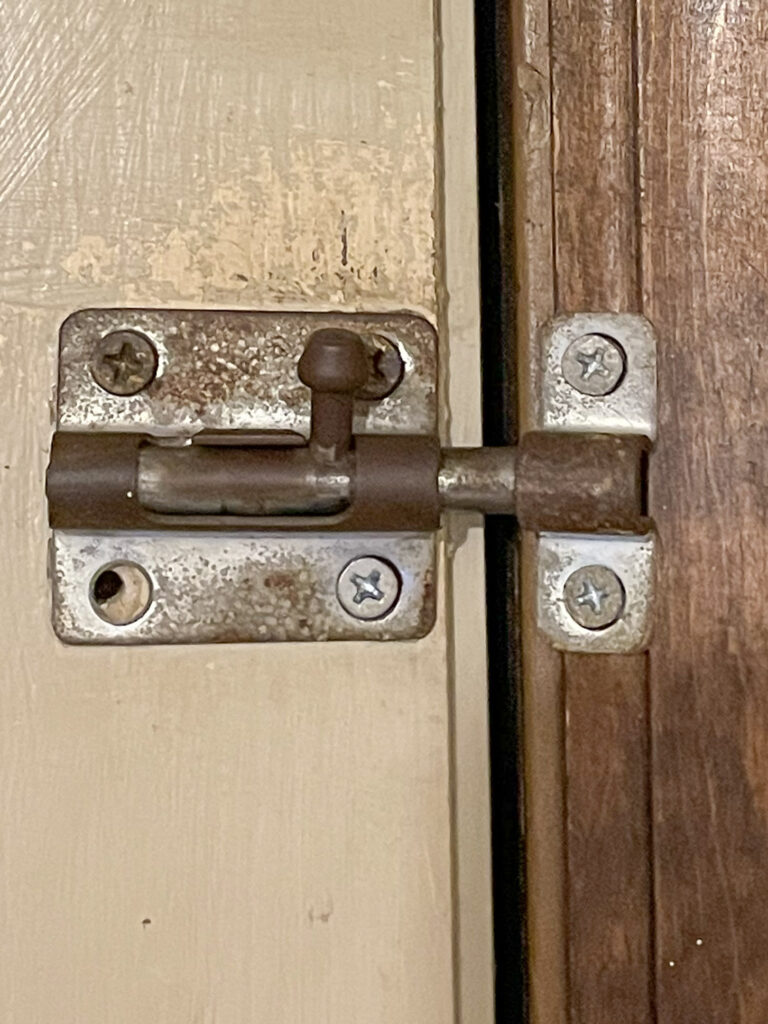 Next, we have the dead bolt and padlock. This appears to be our current stage. We cannot use the standard door knob as a reliable method here anymore. As it turns out, standard door knobs are pretty easy to unscrew and disassemble, leaving the entire door knob, lock and all, in pieces on the floor. Here at the King house, we have ENTIRE containers full of door knob part thingies. I will post this picture here just so that those of you who can feel me here know that you are not alone. If we had bought stock in the doorknob company, we would be independently wealthy by now. But I digress.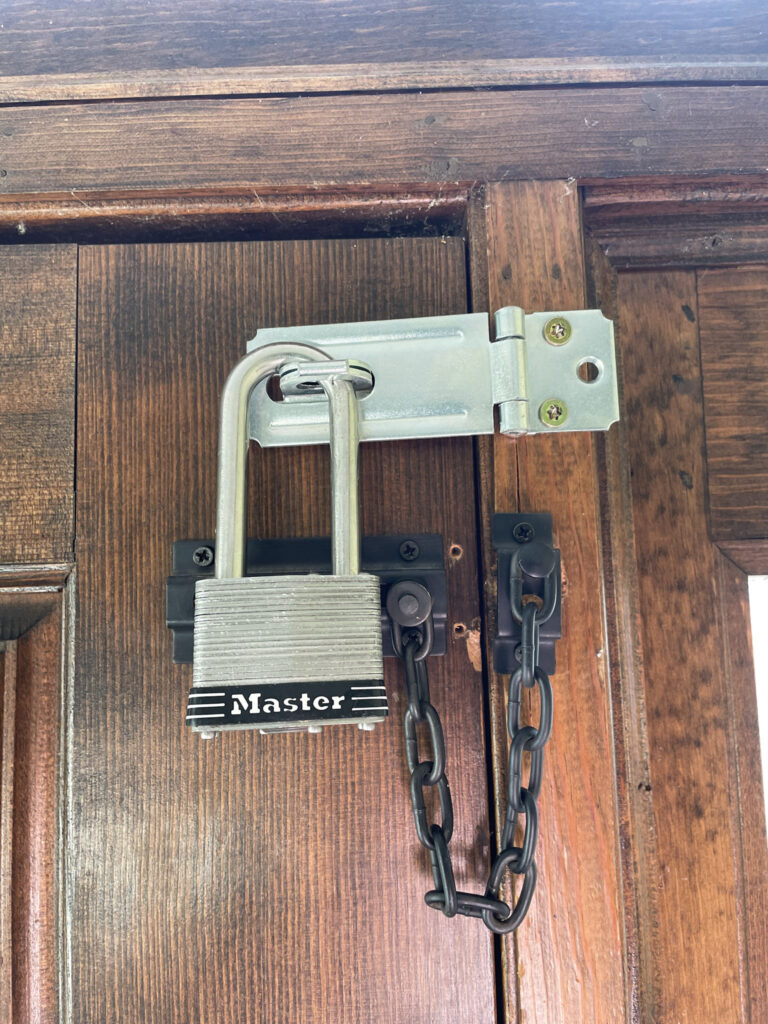 Heavy padlocks and dead bolt locks for Bolting Prevention
Here is our current system, we have found that the only type of lock that can't be undone. We use actual dead bolts on all of our exterior doors. You have to have the kind that open with a key. Yes, that's right. The ones with levers won't work because obviously, if you know how to work it, your child will have already learned, it. These dead bolts are heavy duty, and cannot be easily picked ( yes, my kids can pick locks lickety-split. can yours?) . They also cannot be taken apart easily.

Our house looks like a fortress in here, but that's the way we roll these days since we have not one but 2 bolters who will often bolt in opposite directions. The adults in the house usually carry the keys on their person all the time. We cannot use a key rack, because unless the keys are on your person, they will get stolen pretty quickly. Every outside entrance has a deadbolt with a key.
Windows- A Dangerous Bolting Problem
Do your kids climb out of the windows? Mine think there is nothing better than using the window option. This is a particular problem since the window manufacturer companies have clearly never had a beta testing done on autistic kids who can escape out of windows. ( By the way, we will volunteer. If my kids can't climb out, then no one can do it). Initially, we were able to use the same window/door alarms from Amazon that I mentioned above. But after the kids grew taller and more brave, we have found that the only solution is to screw the windows shut. Yep. that's what we do. At least until we can do something better. Bonus points if you can find a screw to use that can not easily be unscrewed by a random sighting of a renegade screwdriver or table knife from the kitchen.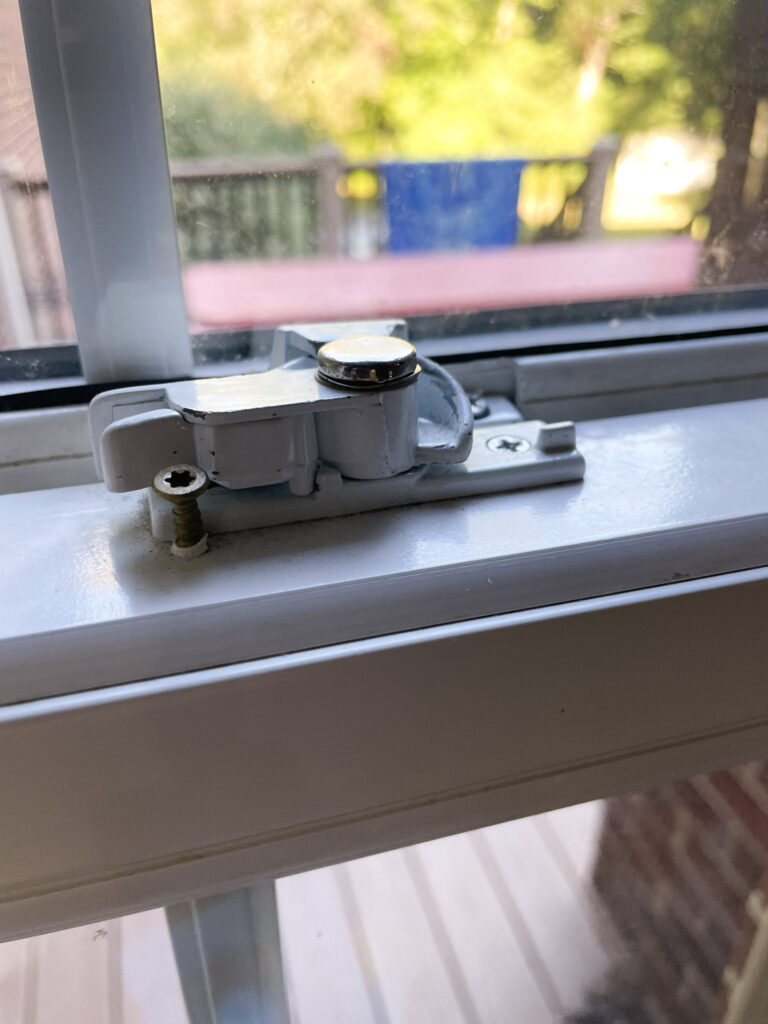 I know that this is somewhat of a fire hazard. We get it. However, in our house, we have determined that we have a far greater chance of a kid falling out of a second or third story window than we do from a housefire. We just try to take extra precautions to prevent as many careless fire hazards as we can. And we do keep a window with a 2nd story fire ladder unscrewed. The twins just don't know this and since all the other windows are locked, they don't feel like spending the energy on this.
Moving on: Securing your Doors and Windows for Bolting Prevention
Well, there you have it. It's quite low tech. In another upcoming post, I may share what we do for cabinet doors, pantry doors etc. I'll try to post some links below if you need to check out a picture. And I would love to hear what you do for securing doors and windows to prevent bolting for your little bolters.
P.S. We have been waiting for over 4 years for our service dog. We should be improving in this area as we will have another set of eyes in the house who will be trained to bark if security is breached ( either window or door), and will be trained to track a bolting kid down before danger happens.
New YouTube Channel
Links to above items:
At this time, I do not have an affiliate link for below listed items. I have provided the info for your browsing pleasure.
Beginning door and window alarms from Amazon: https://www.amazon.com/Personal-Security-Window-Wireless-Burglar/dp/B0727QX9SC/ref=sr_1_3?crid=1SSF6W0MEI2XP&keywords=window%2Band%2Bdoor%2Balarms%2Bfor%2Bhome&qid=1664489442&qu=eyJxc2MiOiI0LjgwIiwicXNhIjoiNC41OSIsInFzcCI6IjQuMTMifQ%3D%3D&sprefix=window%2Band%2Bdoor%2B%2Caps%2C107&sr=8-3&th=1
Double sides key deadbolt locks from Lowe's: https://www.lowes.com/pd/Kwikset-600-Antique-Brass-Double-Cylinder-Deadbolt/1000182233?cm_mmc=shp-_-c-_-prd-_-hdw-_-bng-_-PLA_HDW_197_Security-_-1000182233-_-Online-_-0-_-0&ds_rl=1286981&msclkid=345a0cfe431e112fa9da6fc85b94be6f&utm_source=bing&utm_medium=cpc&utm_campaign=PLA_HDW_197_Security&utm_term=4585513251079041&utm_content=HDW_Locksets_PLA&gclid=345a0cfe431e112fa9da6fc85b94be6f&gclsrc=3p.ds
Padlocks for Doors to Garage or Anywhere Storing a Dangerous Item. https://www.lowes.com/pd/Master-Lock-1-5625-in-Steel-Keyed-Padlock/3036354