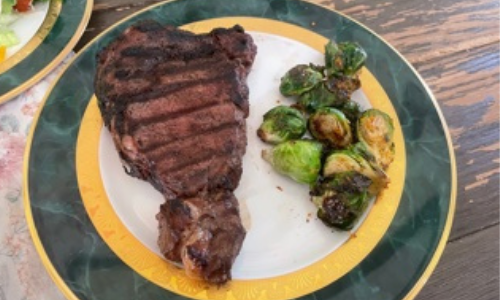 How we transitioned from grocery store beef cuts to buying our own organic beef ( an actual cow)
Introduction to "From Whence We Came"
For many years, I just bought regular ole grocery store meat that was placed out into the refrigerated displays. I did often shop for the best price per pound, and since we were always on such a tight budget, we used quite a good amount of ground beef. We did do the occasional roast and steak grilling. I didn't know much about cuts of steak, which parts were most tender, or how to order.
The first Step
My first educational experience into quality meat cuts of beef was after I married. I went to the grocery store with my mom in law when she would buy cuts of steak at the fancy stores. She sometimes would talk to the person working in the meat department about what good steaks they had gotten that day. The "meat people" working the store were quite knowledgeable, and over time, I could start to tell the difference between a ribeye and a filet.
In the Middle of the Journey
I started my own health journey after the twins were born. It was a difficult, stressful time in my life, and frankly I just never felt well. Over time, I started cooking everything from scratch and mostly stopped using processed ingredients. It made an immediate difference in my health. Then I had another revelation: I need to figure out a way to buy better protein for my family. What good is it doing me if everything else is organic and my meat is still low quality meat that has been treated with hormones and heavy grains?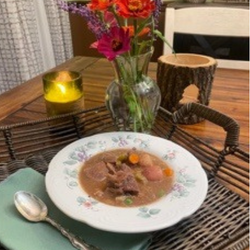 How I Transitioned to Buying My Our Own Organic Beef
I first heard about a company called Butcher Box from another all natural leaning friend. We have been using them for over 2 years now. They have several different meat selections that you can place in your monthly order box. Buying our own organic meat became easier very quickly. I have to say that they have pretty good customer service, and we are pretty happy with the quality. The only down sides are the additional expenses ( its not cheap) and the packaging. ( ours frequent has holes in the seals and once it thaws it leaks). But when the pandemic hit and no one could find meat at the store anyway, my faithful Butcher Box came every month.
The link for Butcher Box is at the bottom of this post, if you want to check them out! I don't have any affiliation with them.
The Real Story to Buying Our Own Organic Beef
About a year ago, I listened to a podcast from a favorite homesteader. She and her family actually raise and butcher their own beef cattle. I was hooked. One of the takeaways I have from that time was finding a way to support a local farmer. I don't have enough land or time here in the "burbs to tackle this on my own. My journey began to keep my eyes out for a local farmer who raised grass fed, grass finished cows. I hit the jackpot one day when a friend and fellow mom of a large family posted on social media about her 1/2 cow purchase and her meat delivery.
Committing to the Cow
Here's the scary part. My friend was happy to provide me with the name of the farmer. Brandon and I visited the farm and the cows. We decided that a 1/2 cow would best provide for our family. We put our order in and we were committed. Now, buying a 1/2 cow requires a good bit of freezer room. It's alot of meat!
NOW the Great News and the #1 reason you should consider doing this yourself along the way:
The hanging weight of the cow after butchering was 520 pounds. Since we bought 1/2 of it, we got 260 pounds. The price of the meat was $4.50 per pound. The truth is that this is the best quality meat and it is less than you can buy at any grocery store. The brisket, steaks, roasts, and ground beef are all the same price. That's really good for a budget. You will not find organic grass fed, grass finished beef at the grocery store for even close to this price.
Waiting, waiting…….
The process between committing to buying a cow and actually receiving the finished meat was several months long. I think that due to the demand we waited about 4 months It is totally worth the wait. Woo hoo!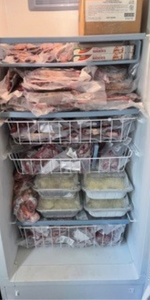 Organic meat delivery day finally arrives! Oh Happy Day!
Last weekend, I picked up our meat! For our very first foray into buying our own organic meat, I felt so accomplished. The cuts of meat are very specific to your needs and our farmer helped us choose what worked best for us. The butcher will custom slice it up for you, but you need to remember that there are only so many ways to cut up a cow. for instance, we chose to use the tenderloin as filet mignon steaks.
Here is a list of what 1/2 cow looked like for us:
Ground Beef: 50 pounds
Short ribs: 6 packages ( 2 pounds each)
Brisket: 2 packages ( 4 pounds each)
Boneless Shoulder 1( 3 pounds
Bone in Shoulder 2 ( 3 pounds)
Ribeye Steak 10 steaks
NY Strip 13 steaks
Filet Mignon 12 Steaks
London Broil 3 ( 3 pounds each)
Boneless Stew Meat 25 pounds
Bone in Chuck Roast 6 (3 pounds each)
Top Sirloin 5 ( 2 pounds)
Osso Bucco 12 slices
Beef Tongue 1
Tails 1 ( 2 pounds)
Beef Soup bones cut in small slices for crock or Instapot ( 6 bags, 1-1/2 pounds each)
Beef Suet ( fat, once rendered will be tallow) 4 pounds.
Ta-da !!!!
And there you have it! If you have ever thought about upping your quality meat game, I highly recommend that you find your own local farmer. We learned so much in this initial journey. Our children are learning to appreciate where food comes from. So great!
Helpful Links
Butcherbox.com