Woo Hoo!!! This is the post I have been trying to find time to write. We love Universal, and all of us are loyal Harry Potter fans. There is just so much to love about Universal. Follow up while we review Universal Studios Orlando with Autism. Also, of note, be prepared for a few extra pictures for this post!!!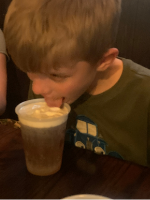 The Disability Pass for Universal
If you need a disability pass for you family to navigate comfortably around Universal, the process for passes here is similar to the one for Disney. You can obtain your pass at the Guest Services office just inside the park. The only real difference that we saw was that Universal still uses paper to sign up for ride times with the disability pass instead of the digital one that Disney now uses. Other than that, it is pretty much the same system. The disability pass here, just like at Disney, is the key for navigating Universal Studios Orlando with Autism.
If you missed this in our previous posts, here is the link: https://faithhealthautism.com/planning-for-disney-and-universal-with-autism/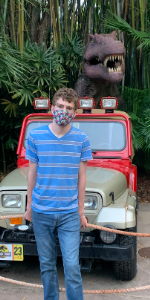 All Things Harry Potter
When your family loves the story of Harry, Hermione, and Ron, there really is nothing like a visit here to make the story come alive. We have visited here a couple of times, and are still amazed with how authentic the park is set up. We do have a few favorite things here that have nothing to do with rides, but then oh, the rides….!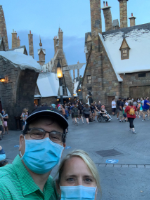 I have to say that we eat at the Three Broomsticks Cafe every time we come here. It seems like tradition now. We also make sure to visit the bathroom adjacent to the restaurant just so we can hear Moaning Myrtle. The twins cannot ride the rides here very well, as they are quite scary, but there is so much to look at. They rode in our stroller/wheelchair and took in the sights with one parent, while the other parent rode the scary rides with the big kids.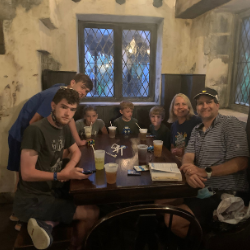 Diagon Alley is also a favorite area to visit that we don't miss. Again, there is just so much to look at here. And the dragon on top of Gringott's Bank roars with fire every few minutes.
A great addition to Harry Potter's world this trip is the interactive wands that you can now buy here. There are multiple spots in both Wizarding World and Diagon Alley that with the right wand pattern, will open boxes in shop windows and reveal all kinds of cool objects, magical water fountains, illuminations and so on. It was especially cool to try this at night when Hogsmead and Diagon Alley were lit up with the evening lights.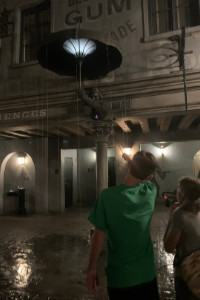 Although it is an extra charge to get a park to park ticket for the Hogwart's Express, I do recommend getting it at least once if you haven't tried it. I know that it just another way for Universal to make money, but we did ride the train several times and really enjoyed the trip. Bonus points because the twins could ride this as it isn't really scary. There are some cool visual effects on the train ride that are worth seeing.
Seuss Landing for Autistic Kids at Universal Studios Orlando
Our second favorite area at Universal has got to be Seuss Landing. If you have preschool age children or read Dr. Seuss yourself as a child, this is a great experience. There are no scary rides here at all. We tend to spend a good bit of time here every time we come to Universal, and this time was no exception.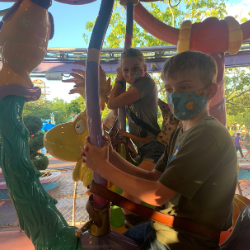 My favorite here is the Cat in the Hat ride. Kasey's favorite is the High in the Sky Trolley Train Ride. During non covid times, we have seen characters from the books walking around here and in the meet and greet area. The area is pretty realistic and you do feel that you have stepped into one of the books. The visual effects are very well done.
Roller Coasters
Universal Studios is much more about thrill rides that go along with movie themes that they have made. Spiderman, the Mummy, the Hulk, Jurassic Park etc. If you have family members that love thrill rides. there are plenty of exciting rides here to make good memories. While my older kids who are coaster enthusiasts rode several of these, I took the twins and Kasey back to Seuss Landing. The attractions in the park are fairly close together, so there is not near the walking miles that you will rack up in Disney.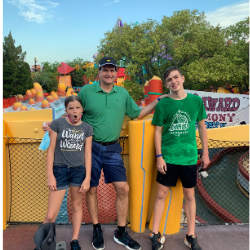 Overall Evaluation: Universal Studios Orlando with Autism
Yes, yes, please take your family here!!!! We love just about everything about Universal. I do think that overall it is geared more toward the older child and adult who love action movies, but there is so much visual stimulation here that it is not to be missed. One word of caution: my husband and older children were a little over enthusiastic about the twin's ability to ride some of the more mature rides here. The twins rode The Mummy and got their pants scared off !! So we wont be trying anything scary any time soon.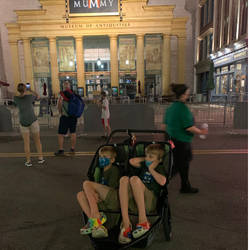 Useful Links:
Here are some useful links to plan your trip.
https://www.universalorlando.com/web/en/us