Because of the advanced reservations required in the Disney Parks due to COVID restrictions, we had to save this park for the last day of our trip. It is also the most popular park at the moment due to the Star Wars Rise of the Resistance attraction. Here is our review of navigating Disney Hollywood Studios with autism. As stated in other previously written sections, we rented a stroller and tagged it as a wheelchair with our disability pass. You can read more about it here: https://faithhealthautism.com/planning-for-disney-and-universal-with-autism/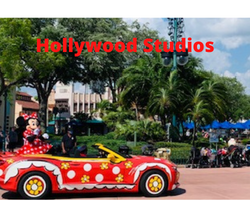 Toy Story Land
For younger children, this seems to be the best area in the park. For Kam and Kris, the primary colors with larger than life shapes matched their current developmental stage really well. Most of the attractions here are not super terrifying. We rode all of them without difficulty: The slinky dog dash, and alien swirling saucers were fairly easy for Kam to ride although Kris was a little hesitant. They both hopped right on Toy Story Mania and enjoyed every part of the ride. My older kids loved Toy Story Mania as well, and I personally felt that this was my 2nd favorite ride in the park.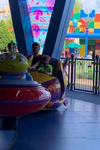 Mickey and Minnie's Runaway Railway
I have to give this ride its own section, because in my own personal opinion, it is THE BEST ride in the park. We rode this shortly after lunch after making reservations with our disability pass. I loved the way the cars loaded people as kind of a group. Our whole family fit into the car which made our ride extra fun! There is a bit of virtual reality " scariness" as the ride is supposed to be running away, but the ride itself is smooth. Overall, for Disney Hollywood Studios with Autism, this ride is a huge thumbs up1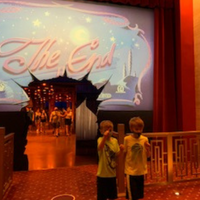 Shows
I remember in times past, there were lots of shows here, but with COVID happening, there were only a limited couple of opportunities to see a show. We did see the Muppet Vision 3D and it was fantastic. Kids can choose to wear their 3D glasses or remove them. Kam and Kris took them on and off throughout the show, fascinated by the the special effects they could see with their glasses on.
In the Walt Disney theater, there is a small easy documentary about the life of Walt Disney. We went in to this while waiting for another ride, but were impressed with the quality of the movie. Our eldest autistic teen Kasey is partial to animation. He was amazed at learning of the struggles and victories of Walt Disney as an animator and a person, and this short movie left a positive impression on him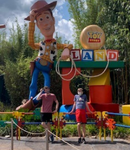 Star Wars
This seems to currently be the area that is the absolute most crowded area of any of the parks we were in. In order to ride the Rise of the Resistance, you enter a virtual queue that is opened only a couple of times per day. For my own experience, I had to sneak off to a private area to log on to my app and then tap like a mad woman the second the queue opened. I joined the queue in mere seconds, and we still had to wait 6 hours for our turn. Yep, we were that far back in the queue. We literally rode everything else in the park and still say around for HOURS with nothing to do. There seemed to be hundreds of other people lying around all over the place also waiting for their turn to ride. It was pretty miserable.
The ride itself was pretty cool and unique once we finally got our turn). It's a fairly long ride as you have to move through the scenes that are set up for you. Disney did do a great job with the scenery, costumes and visual effects. There are some pretty fantastic parts of the ride to experience.
I was a bit disappointed in the actual car. We had so much fun on Mickey and Minnie's Runaway Railway in the big group car. The first thing we noticed about Star Wars was that we were sitting in an identical car to the Mickey Ride. Literally seemed like the exact same ride, just with Star Wars instead of Mickey. All in all, we are glad we chose to ride it once to see what the hype was about, but I think adults and kids alike felt that the ride was probably not worth the wait.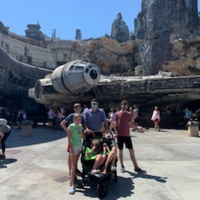 Bad Customer Experience
We did want to mention that the cast member here at Hollywood Studios definitely were not as autism friendly as our experience in the other parks. We actually were denied entrance at the Rock N Roller Coaster with our disability pass. The cast member who ran this ride were pretty horrible. I mean horrible to the extent that we felt the need to walk our entire crew all the way to guest services to file a complaint. We spent a significant period of time with guest relations discussing how all the other parks treated us so nicely and how disappointed we were with Hollywood Studios.
Overall Evaluation: Disney Hollywood Studios with Autism.
Thumbs down. I am not sorry to say it. We tried to like you Hollywood Studios. We did, honestly try to like you. There are a few favorite rides here. But overall, the terrible treatment of the cast members at this park, the disrespect for our disability pass, and the long wait through the virtual queue to the Rise of the Resistance was just not really worth the visit. I kind of doubt that we will be returning to this park any time soon.
I think that for the most part, when you have to wait that long for a reservation to a ride, that you just run out of things to do. There is just not enough other things to do here to justify the wait.
Well, there you have it! This is my final review of the Disney Park for this trip. I hope that my readers can find some useful tips to help you navigate a trip to DisneyWorld and have fun with your family and loved ones.